It was actually a chance discovery in the Archive that has made this 50th anniversary celebration possible. Up until a few years ago, no one knew when the first female student was admitted to St Edmunds. I had received several boxes of old tutorial files from the Tutorial Office and as I was sorting through the files, I came across Margarete Geib's tutorial file. What a discovery! It appears from the College Association minutes at the time that the proposal of a woman student coming to St Edmunds was met with seemingly little to no resistance. They agreed that there was nothing in the statutes saying that women could not be members of St Edmunds and there was no reason to say no.
I have been at St Edmunds about 5 ½ years now, but I only work one day a week (spending the rest of my time at Trinity Hall), so it's more like I've only been here for a year. I feel like I've only scratched the surface and am still learning so much about the College. As a Catholic I feel a special sense of pride working for the only Catholic college in Oxbridge.
A little bit about myself: I am originally from California and studied History and Classics at the University of California, Santa Barbara. I came to the UK in 2010 to do a Masters in Medieval Studies at the University of St Andrews. While at St Andrews, I volunteered at the University's Archive, and I knew I wanted to become an Archivist. After spending another year in St Andrews working in the library, I did my MSc in Archives and Records Management at the University of Glasgow. Before coming to Cambridge, I worked at the Hertfordshire County Archives and Local Studies. In my spare time I enjoying running after my toddler and sewing.
I lead a very quiet and unassuming life in the College Archive, only popping out occasionally for food, meetings, and the much loved tea trolley. I spend most of my day sorting through the College's records, putting them into a semblance of order, repackaging, and cataloguing them. Another aspect of the job is answering enquiries, supervising researchers, and ensuring the long-term preservation of the material by commissioning conservation repairs and keeping a close watch on the environmental conditions in the Archive. I also happen to be the College's records manager, which mostly consists of writing policies and procedures, providing guidance, and overseeing the regular transfer and destruction of records. Being both the archivist and records manager can be tricky, because I have to find the right balance between ensuring the College keeps its records in accordance with legal requirements while still preserving records of historical value in the Archive.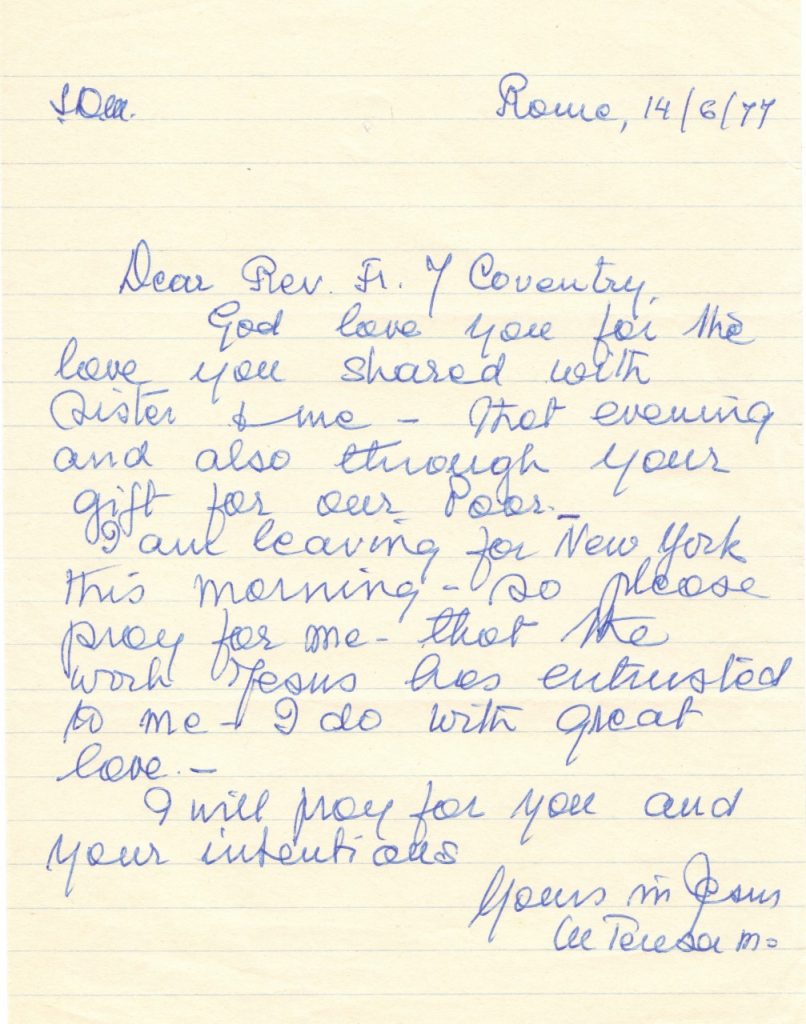 Before signing off, I'd like to mention another interesting discovery I made in the Archive recently. Hiding in the papers of Rev. John Coventry, SJ (Master 1976-1985) was a letter written by Mother Teresa. In the letter she thanks Coventry for the reception she received at St Edmunds. She visited Cambridge in June 1977 to receive an honorary doctorate from the University. The letter is technically a third class relic since Mother Teresa has now been canonized. You never know what you'll find in an archive!
If you have any questions about the College's history or would like to consult anything in the Archive, don't hesitate to ask! Information about the Archive and its collection can be found on the College's website.