Written by Charlotte Dean (nee Bulman) about her mother Margo (Marguerite) Bulman.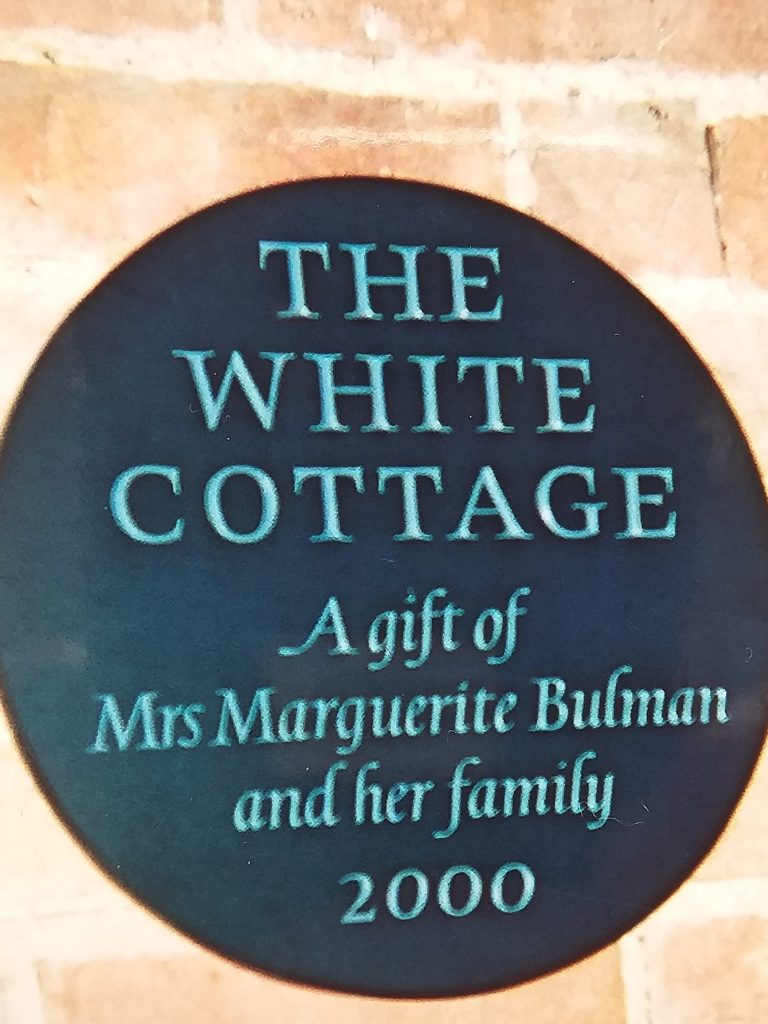 It's half a century now since my widowed grandmother, Beatrix Fearnsides, moved down from Sheffield in 1969 to The White Cottage, to be near my family living in Lady Margaret Road at Strathaird. Barely moved in, she received an unwelcome baptism of smelly mud, thanks to building work behind from the new office block under construction which came right through her hall, wrecking her carpets and pictures still stacked there awaiting hanging. No compensation, no sympathy – unlike modern practices. And no pleasing architectural design to mitigate, unlike the smart accommodation block that now occupies the site.
However, she made this lovely old cottage her own, and after she died in 1973 my mother and father (Oliver and Marguerite Bulman) moved in and enjoyed the view of the trees from their low double-windowed bedroom upstairs. Just one year later my father died and The Cottage increasingly took on the character of my mother. She never modernised the bathroom or kitchen or faced the upheaval of installing central heating, but she polished and cleaned everything, and more and more of the sitting room became a studio for her suppressed creativity. Having turned down a place at the Slade School of Art in favour of reading Botany at Girton College, she returned in the late 1970s to watercolour painting and then clay modelling. The lid of the grand piano (memorably played by Prof Sir Brian Heap, the Master of St Edmund's at the time) was filled with busts of eminent Cambridge academics.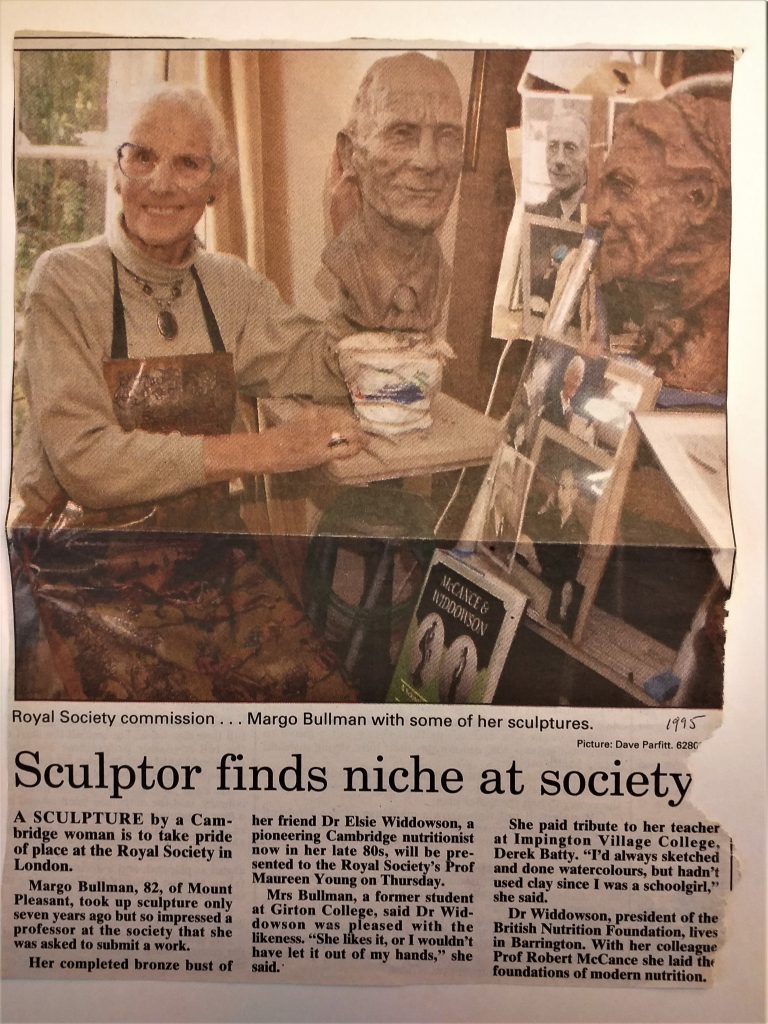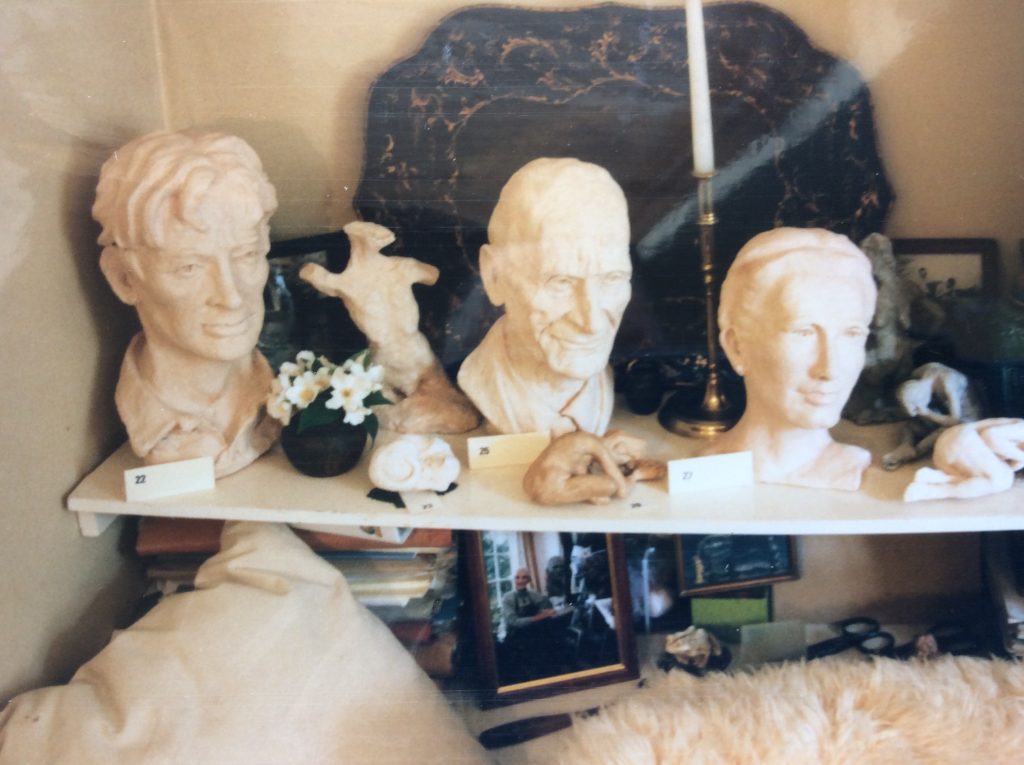 Margo loved being a near neighbour of the college and enjoyed the comings and goings of the students. A succession of them (mostly from China) lodged with her and she helped them with conversation and inculcated them with the niceties of English customs, university traditions and academic expectations. In turn she learned from them. On occasion there were rows of shoes in the hall when they had visitors (a new concept then that is now prevalent everywhere). And, again widespread now, they assumed the phone was free for countless calls – something Margo learned to her cost when the bill came.
St Edmund's generously invited her to functions and on one notable occasion she was mightily glad for late revellers when she was unable to manage a zip of her long velvet dress and was obliged to seek help (which of course was readily given).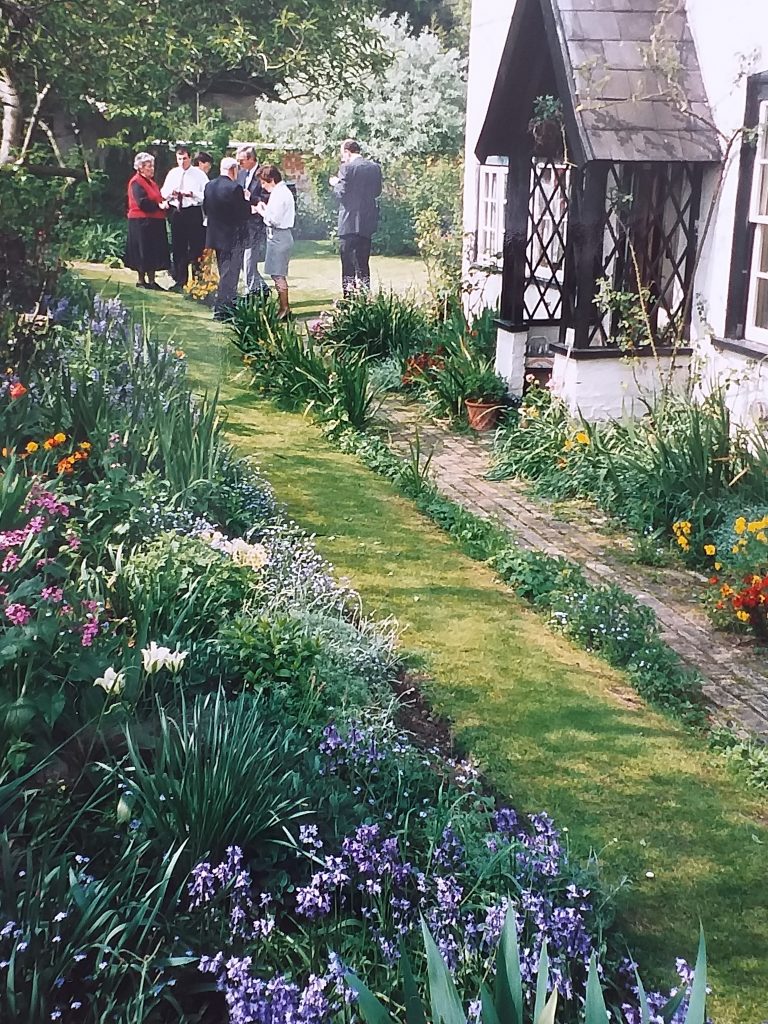 As an honorary fellow of Lucy Cavendish College, Margo was also welcome at Strathaird. A photo of a family gathering at The Cottage includes Dame Anne Warburton, the first President, in a red jacket to the left.
Margo readily admitted that housework was not top of her priorities, but very high on the list was her garden. Typically refusing to do the obvious, she cut her lawn diagonally, thus creating more interest in the square shape available. Although in her eighties she came to rely for mowing on the vigour of two grandsons up at Cambridge, she managed the rest on her own. The contrast with the inevitable demands of the College today is striking. Her pride in the unique character of her garden allows this photo to speak for itself.
In Dec 1999 Margo became too frail to manage on her own and her eldest daughter Jane took her up to her home in Glasgow to care for her. After The White Cottage had been cleared, it was home to the Von Hugel Institute. (Baron Anatole von Hugel had been one of the co-founders of what became St Edmund's House which later was granted College status. Founded to preserve the Roman Catholic traditions of this college, the Institute fosters academic work on the relation of Christianity to society, a cause Margo certainly approved.) The Institute was rehoused in Bene't House when The White Cottage became used for student accommodation. The extension to The Cottage was so sympathetically carried out that I had to walk up and down the road a couple of times to work out what it was that felt "different" about the building. Looking closely at this final photo will show just where the original cottage stopped and the corner where the cottage was approached from the lane, flagged up by her striking scarlet poppies.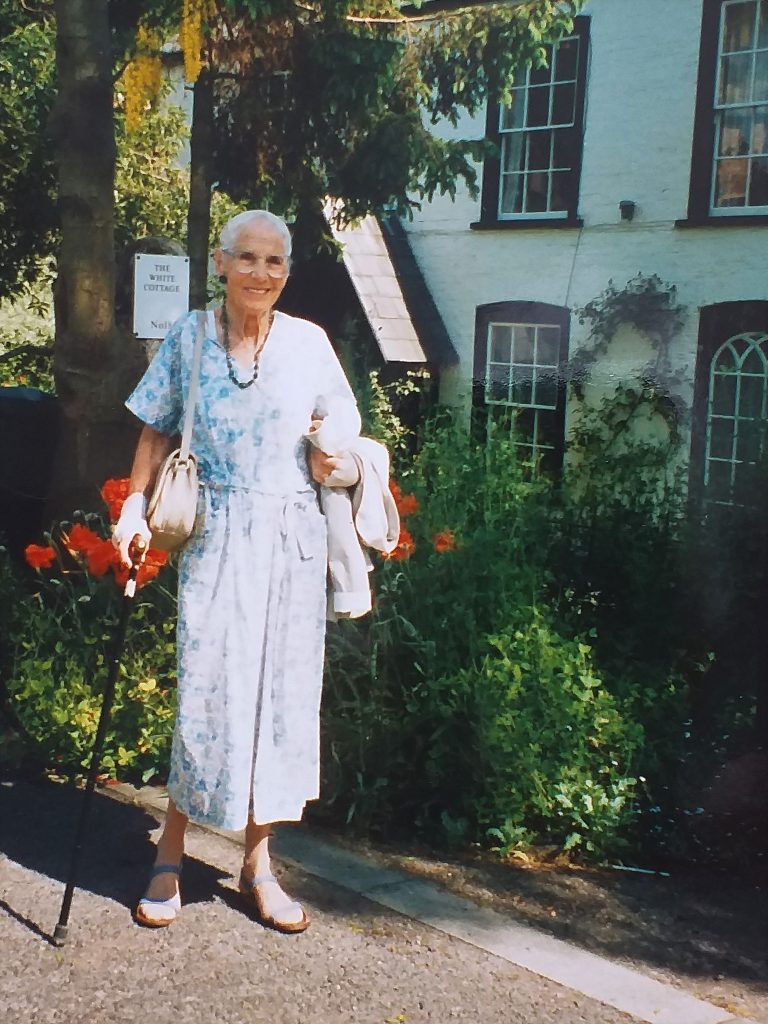 So if you are in the SCR Bulman Room or have/ have had accommodation at The White Cottage, or are simply going to and fro past what one senior fellow has described as a "little jewel in the St Edmund's estate" and wondered who this Margo Bulman was, I hope you can now appreciate a little more about her and the recent history of The White Cottage.